Padar Island tour: Experience of a lifetime
Surreal landscapes, savannah-covered terrains and panoramic views, Padar Island is a stunning island situated in the heart of Komodo National Park. The island has a rare combination of three turquoise bays with each one of the bays' beaches having different coloured sand – one is pearly white, second is charcoal black and third is baby pink. While planning your Padar Island tour, remember that April to November is the best time to visit this savannah-covered haven.
How to travel to Padar Island?
Since padar Island is a small island situated between Komodo and Rinca Island in the National Komodo Park, there are no direct flights or commutation available to the island. So, there are three routes to reach to the Padar Island, i.e. either from Labuan Bajo or Bali. 
For Labuan Bajo, you can fly to Flores and go to Labuan Bajo airport. From Labuan Bajo, you can take a boat. Labuan Bajo is also a popular place among tourists to start their journey to the Komodo National Park. There are a lot of accommodations available in Labuan Bajo, so it will be easier for you to find a place to stay and transportation to travel around.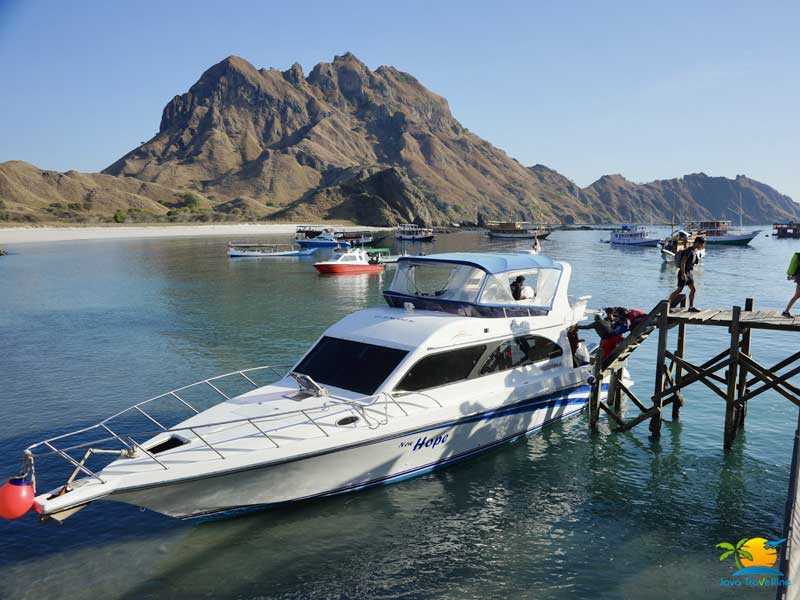 If you are travelling from Bali, then you can get to Padar Island by plane. Since there is no airport in Padar Island, so you still have to use the boat ( Read This Article; Komodo Boat trip ). From smaller wooden motorboats to the luxurious yachts, you can choose from a large fleet of liveaboard boats in different sizes and facilities to travel from Bali to Labuan Bajo.
If you are looking for a romantic getaway then, Komodo Island honeymoon cruise from Bali is perfect for you. This is most convenient as well as an affordable way to travel to Padar Island.
You can travel by land too. If you are interested in adventure and want an insight into the local lifestyle then, this route is perfect for you. However, this route takes longer time with combining overland trip from Bali to Padar Island using a bus or chartered car with sailing trip using a regular ferry.
Where to stay in Padar Island?
While the Padar Island tour offers a unique panoramic view, there are no accommodations to stay here unless you are ready to camp directly on the hill. Labuan Bajo is the best place that you can stay when you visit Padar Island.
In Labuan Bajo, there are many accommodation options that provide 5-star services, comfort and privacy with spectacular views over the bays. You can choose from a wide variety of hotels, resorts, hostels, guesthouses, stay-in-tent or shared accommodation. Look out for the one that has excellent hospitality services reviews as well as are equipped with modern facilities and amenities.
Some tips for trekking in Padar Island
In case you are wondering what to plan for your thrilling trek, then here are a few tips for having an enjoyable Padar Island trek: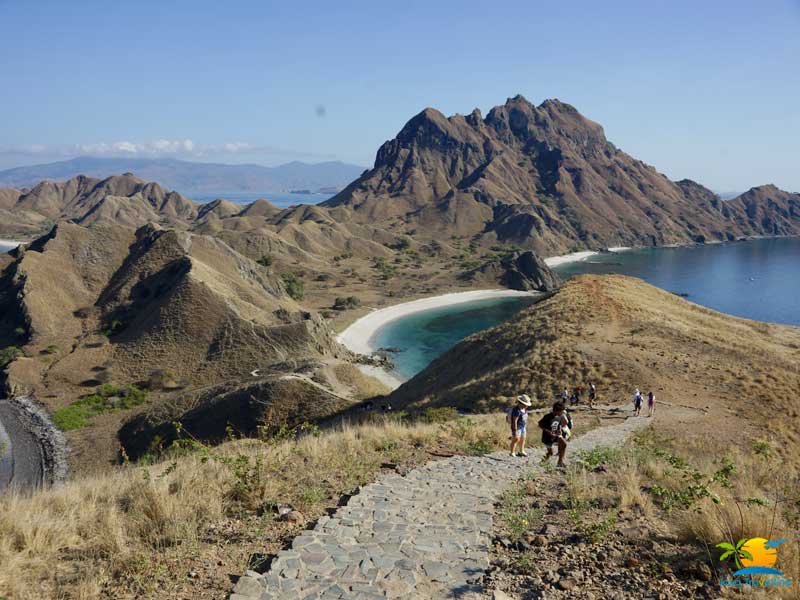 Mornings are the most preferable and best time to visit Padar Island as the weather is pleasant. The Padar Island sunrise tour adds a picturesque landscape in the background. In case you plan to visit Padar Island in the afternoon then you should wait until the sun goes down to witness the stunning sunset.
Book a tour package for Padar Island. As there is no facility for public transportation, its best to book a tour package, especially since planning and booking the transportation will be considerably more expensive if you do it yourself as you would have to rent a boat as well. Thus, it will be less expensive to take a tour package as everything will be covered in it. Just be assured that your package includes Padar Island tour as well.
You should never wear sandals or slippers while hiking. It's advisable to wear boots or climbing shoes always. The slopes are quite slippery so it is safer to wear shoes.
Do not forget to carry a hiking stick to help climbing the hill for Padar Island hike, especially if you are not experienced in trekking. In case you forget one or are not bringing any, a random wooden stick will also help.
This goes without saying but do not forget to carry a camera to capture the perfect snaps from the viewpoints. The spellbinding view from hilltop will make you want to stay there forever.
Always use a sunscreen with a minimum SPF 50. The sun in Padar Island is extremely hot that you might get sunburns if you are not using any sunblock protection. You should re-apply the sunscreen after every few hours, especially if your skin is sensitive to the sun. Or just bring an umbrella or a hat if you are allergic to sunscreen. Since the sun in Padar Island is not friendly at all, it will also help a lot to cover your head.
Last but not the least when going on the Padar Island tour, remember to take with you other necessities such as water, medicines, rain jacket, torch or headlamp and insect repellent so that you are fully prepared.
Behold the beauty of Padar Island with best viewpoints
You can have some of the best viewpoints from almost every spot of this Padar Island tour. From the rugged golden terrain encompassed by dazzling azure waters and the breathtaking tri-coloured beaches, everything is truly a sight to behold.
Once you will reach the vantage points of the hill, you will spot panoramic view over Padar Island and surrounding islands. You will be able to gauge the raw beauty of the island and can feel the serenity and tranquillity.
Apart from these, Gili Laba has an amazing viewpoint from Komodo National Park to catch the glimpse of stunning sunrises and sunsets.
Conclusion
Steep hills, gigantic bays and panoramic views are what that gives Padar Island a truly unique atmosphere. It is a perfect getaway for travel enthusiasts, adventure junkies or even honeymooners. Trek and hike your way through the island and don't forget to catch the sight of serene sunsets and sunrises.