Rinca Island Tour: Unique Trekking Experience For Adventure Enthusiast
Are you an adventure enthusiast longing for a thrilling experience amidst the wildlife and nature in Indonesia? If yes, then become a part of Rinca Island Tour to get the best hiking, trekking and diving experience around Komodo National Park. Komodo National Park comprises of three huge islands namely, Komodo Island, Padar Island and Rinca Island, spread over an area of about 2,321 sq. km and is rich in natural heritage including beautiful beaches. As the name suggests, Komodo Islands are home to approximately 5,700 world's largest lizard, the Komodo dragons. As a part of Rinca Island Tour, you will not only be able to spot these beasts but also undertake several other activities such as snorkelling, water bike rides, bat watching and many more.
Here's a quick snapshot of the things to do during Komodo Rinca Island Tour:
Trekking and spotting Komodo dragons at Rinca Island
Untouched by modernization, the Rinca Islands will mesmerize you with its raw beauty, dense forests, sprawling meadows and exotic wildlife. Occupying an area of about 123 sq. miles, the chances of spotting Komodo dragons are higher in Rinca as compared to other neighbouring islands. Once you reach the port, you will have to take a short walk to the ranger camp wherein you can hire a guide, and the charge for the same is $15 for one to two hours. Please note that it is highly dangerous to trek through the island without the assistance of a guide.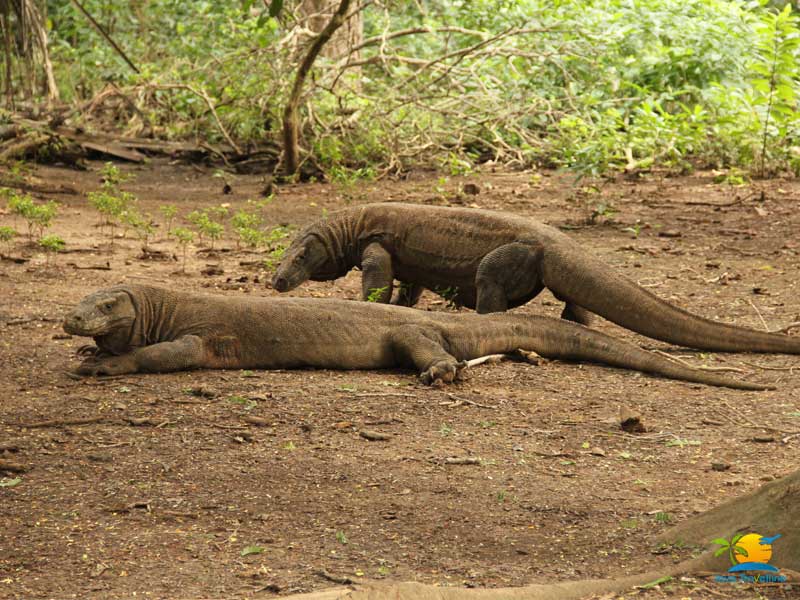 As you start hiking through the tall grass, always stick to your guide and the group, and watch out for Komodos hiding in ambush. Furthermore, keep your head down and do not look directly into the eyes of Komodo as doing so makes them furious. Women on their period should be extra careful as the dragons are attracted to the smell of the bloods and might attack.
The trek during the Rinca Island Tour is adventurous, scary and enjoyable at the same time. The terrain has a gentle gradient and is easy to navigate. You will walk past scenic landscapes, waterholes, which are usually frequented by the beast, and the view from the top of the hills is spectacular. If you are lucky, you will spot Komodo dragons basking in the sun and females protecting their nest. In fact, they are usually peaceful unless you tease or go near them. In addition to spotting the dragons, you can also come across other animals such as wild pigs, water buffalo, deer, cobra and many species of birds on Rinca Island while the trek.
Tips for trekking at Rinca Island:
The weather on the island is highly humid and hot; therefore, it is advised to carry sunscreen, sunglasses, and enough supplies of water.
There is a small canteen near to the ranger's camp where you can purchase drinks and snack but it does not provide food.
Watch out for snakes and other reptiles while the excursion, and do not litter the place.
Stay at Rinca Island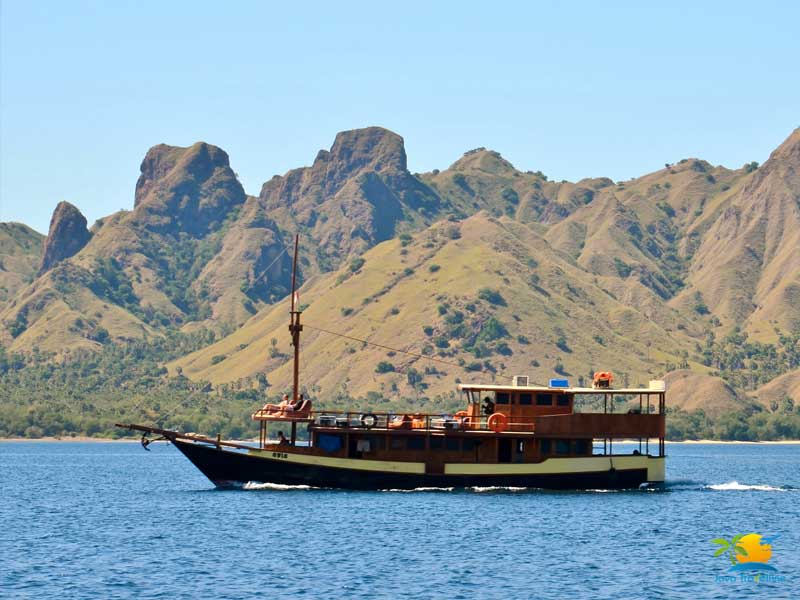 There are several affordable and luxurious hotels in Labuan Bajo that are known for their excellent hospitality and fine dining facility. Unfortunately, you cannot stay or camp on Rinca Island as it is not safe during the night. However, you can opt for a cruise or a boat ride and spend the night amidst the cool water of the sea and return to Labuan Bajo the next morning.
Spotting more dragons and enjoying the sunset at Komodo Island
In addition to the Rica Island Tour, you can opt for the Komodo Island Tour to explore rich biodiversities of Komodo Island. It is the biggest island in the Komodo National Park and has the largest population of dragons. Here too, you need to abide by the guidelines of the instructor and do not abandon your group. Spotting the wild beast amidst the dense jungles of Komodo is a thrilling experience in itself! You should try snorkelling at Pink Beach and get enthralled by the splendid view of coloured corals, fish and other marine animals.
Once you are done spotting the dragons, you can relax on the beaches of Komodo Island which are known for their pink sand, crystal clear water and serene ambience. Take a boat ride to Pulau Kang and witness a breathtaking view of the sunset over the horizon of the sea. As the sky gleams with an orange tinge, hundreds of giant bats, also known as fly foxes, fly to nearby forests. The sight is pleasing amidst the dead silence of the sea. For more details on Komodo Island Tour refer to travel guide here.
How to get to Komodo National Park?
The best time to visit Komodo National Park is during the dry months that last from April to December. The dragons are usually inactive and hard to spot between July to August and September to November because it's their mating and nesting season. The nearest airport to the biosphere is situated in Labuan Bajo which has direct flight connectivity from major cities including Bali and Jakarta. Book an early flight so that you have most of the day to yourself to explore the park. You can book a cab directly to your hotel from the airport or, perhaps ask your hotel managers to arrange a cab.
Should you book a tour operator?
You cannot visit Komodo National Park without an official guide and a park ranger. Therefore, it is necessary to book a tour operator that will make all the arrangements related to boat trips, island hopping and park fees. There are many trip organizers in town that provide a well-curated Rinca and Komodo trip from Labuan Bajo. On arrival, you can search the best tour that matches your budget and travel plans, or alternatively, you can contact us and book everything in advance to save time and money, and kick-start your Rinca Island Tour on a positive note.